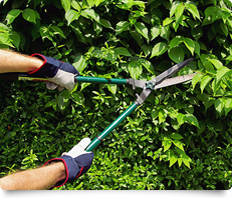 The hedge is an important part of every patio and it needs to be supplied with cares regularly, in order to look good. This, however, is not an easy task. Except time-consuming, it can be also very hard because of the location of the hedge in your real estate property, its size and many other factors. To have a good-looking live fence, you no longer have to sacrifice hours of your essential free time. We know that this part of your home must always look flawless and therefore we are prepared to provide it with excellent professional cares right away. Call our professional agency in London and leave the rest to us.
Excellent Hedge Trimming
Our company has been in the gardening business for a lot of years and today we are one of the best in the industry when it comes to hedge trimming or maintaining. Even the weather conditions can cause damage to the hedge in your home but when that happens, hurry up and contact our specialists in London. They will take care of any broken branches, unevenness or overgrowing. We have the perfect equipment which is suitable for all kinds of live fences, irrespective of their size or condition. Our well-trained professionals can transform your home any way you want with a simple trimming of the hedge.
We are offering you:
Services which always give the desired result
Gardening procedures which will be performed with specialized tools for the job
Perfectly looking hedge after only a few hours
Reasonable price rates for trimming and any other gardening services
Our professional company is offering you the amazing opportunity to have the best looking hedge in your neighbourhood. It is not a problem for us to perform our procedures even during the weekends and the official holidays. Any time you need professional and effective hedge trimming, pick up your phone and give us a ring.
Our agency is considered by a big part of the citizens of the capital to be a successful and very dependable provider of different gardening services, for the nature of which you will be able to understand more details once you come and visit us at the headquarters. Don't wait until the last moment to take the necessary measures for your overgrown hedge. Our affordable hedge trimming services are only a phone call away, so make it as soon as you can and watch how we will transform your entire patio.