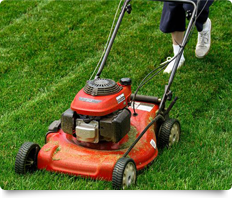 If you need a gardener to trim your lawn either regularly or once, our company has a few suggestions for you. We have a team of experienced gardeners who maintain lawns in a few London districts. They use professional equipment such as mowers, trimmers and edgers, leaf blowers and other tools.
The lawn mowing process may take less than an hour or more, depending on how far the grass reaches.
Lawn mowing process includes but is not restricted to the following steps:
Preparing grass
Cutting lawn
Trimming the edges
Inspection
You need to specify which day is convenient for you to have your lawn cut. Depending on how big the place is, a team of workers will be sent to your property on the day of the service.
First our gardener or gardeners will take a look at the place and prepare their machines, as well as the grass. Since the edges of the grass are more difficult to cut, especially if the lawn is surrounded by rocks or other items, they need to be bent down. The mowing process takes little time, but if the lawn is bigger, it may take more than expected.
After the work is done, our gardeners need to inspect the area for any missed spots. If there are any, they will go over them with the lawn mower once again until all the grass is perfectly trimmed.
The grass needs to be long enough to cut, but it shouldn't be too long. Also, it shouldn't be cut too short. If it is at the right height, then your lawn will be healthy and free of bugs and even rodents. Generally, a lawn should be trimmed at least once a week and it shouldn't be allowed to grow more than 3 inches during spring and summer. Trimming is important because it stimulates grass growth. So, our gardeners may need to provide lawn mowing every 5 to 7 days during peak growth and less frequently or not at all throughout the cool seasons.
At the end of the service, there is just one thing left – payment. If it hasn't been made before the mowing, it should be made at this point. Once you pay, our gardeners will take all the equipment they brought and leave.
If you need to know more, please use number 020 3745 5183 to talk to our representatives.