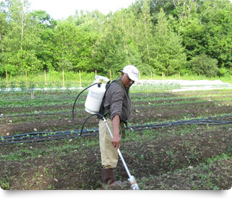 We are familiar with hardships of the never ending battle with the weeds which invade your lawn and garden. Most of them are so stubborn that they will grow once again right after you have removed them with their roots. If you want to get rid of these pests, we can offer you an excellent solution. We are an agency which performs reliable weed killing in London. We have professional workers who have all the skills and equipment to remove the green invaders out of your property. In order to take advantage of our offer, you will have to book a weed killing service at our office.
Reliable Weed Killing
We know that you can remove the annoying weeds from your lawn all by yourself. Yet there is a high chance that the unwanted vegetation will grown once again. There are several reasons for that. A deep roots system could rejuvenate the plant in no time or seed sowing could expand the infestation. Luckily we have the full potential to help you out even in the toughest situations. We deliver a wide assortment of weed killing procedures that will guarantee you reliable effects.
Our agency does what it takes to deliver qualitative results, and that is:
weed removal
seed control
anti-weed spraying
several herbicide options
emergence prevention
You should bear in mind that we respect your garden and our anti-weed spraying is executed with great attention. Our workers carefully treat only the weedy areas in order to keep safe all of your cultivated vegetations. You have several herbicide options, so you can choose what would be best for your lawn and garden. Remember that all the procedures are included in the service price. We have trained our workers to use the latest weed killing equipment and herbicides.
Don't worry about your flowers and trees because we take them into account. Throughout the years of our practice we have proved that we can provide reliable assistance to all of our clients.
Our professional agency offers reliable weed killing in London. You can take advantage of our services by making a weed killing appointment. To book a service, you will have to call at our office. You can be certain that there will be someone to answer your questions or to get your contacts. Please, check the availability of our workers before making the final arrangements. Contact us if you need reliable weed killing services.