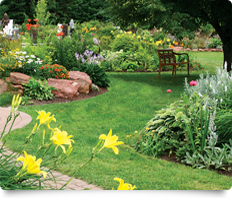 We are serious and organized company that offers the best landscaping designs for your home. We currently offer our services in London and we are ready to offer to your attention a wide range of design that will suit your taste. Our experts will be happy to assist you with valuable advice for providing the best landscaping and design in the area. The designers will choose the best ideas that are most appropriate for your home. Of course, we will take into account your requirements and personal preferences because we respect all of our customers.
If you want refreshed look for your patios and walkways or other decorations that will make your gardens fantastic clean, turn to our professional services right now. Your new design will be a perfect addition to your home and we will be happy to install everything in a professional manner. Whenever you feel that you lack ideas for your landscaping design, you can turn to us – we won't disappoint you but we will offer you great solutions for your problem. Our professional landscape installations are done in an excellent and precise manner.
Professional landscaping and design
If you dream of professional landscaping and design performed in an ideal way, choose us and you will be more than pleased with the final results. All of our experts are entirely committed to give you the best advice for your design.
In our service we include the following things:
Competent opinion from landscape designers
Home visit
Landscaping installation services
A wide range of designs for your home
Qualified and reliable landscape experts
To book our landscaping and design services, you can find us in London. We will come with the most suitable equipment of instruments and materials to create an unique atmosphere in your home. We will make a detailed plan and we will organize everything in the right way. As for the prices, you should not be disturbed by these issues, because we are loyal and we have set fixed prices for all the landscaping services that we offer.
The working times are very flexible and include the weekends. To be additionally informed you can use our customer support centres where our polite staff will be glad to help you with any information that concerns our gardening and landscaping services. Make the right choice for a better appearance of your sweet home !